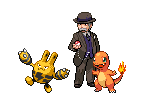 "An old man who lost a son and loves the sky..."
Name
: Vaughn Roth
Gender
: Male
Age
: 74
Class
: Hunter (Major
Ground
, Minor
Flying
// Weakness
Dark
)
Appearance
: 5ft 8, broad-shouldered and moderately fit, having worked the land all his life. He has short, light-gray hair combed to the side, and a thick, tidily trimmed mustache. His hands are large and callous, a finger on the left one sporting an unadorned wedding ring made of gold.
He wears long-sleeved shirts regardless of season, but always keeps the sleeves folded up to elbow-length even in the coldest days of winter - a habit acquired from his days as a Berry farmer. He tends to wear black or brown corduroy trousers, and refuses to ever been seen in a pair of shorts, deeming them "child clothing".
He only has one jacket, which he's owned for decades and can't imagine ever disposing of - an old dark brown blazer without a single visible tear, though the wear is obvious. He carries it with him at all times, either dressed or over the shoulder; a birthday gift from his late wife that he refuses to part with.
Personality
: Vaughn is a very kind and polite old man. He doesn't talk much and probably won't strike up a conversation unless approached, having learned to value silence and introspection over the course of his life, but will be as warm and welcoming as he can to anyone looking to have a word.
In his heart, Vaughn feels unspeakably lonely. Aware that he is well past his prime, the autumn of his life was cursed with a series of misfortunes that caused the old man to end up alone in the world, and it shook him to the core. Missing his beloved wife and son every hour of every day, he tries to take comfort in the happiness of others, often going out of his own way to help brighten someone's day. He frequently urges others, especially youngsters, to cherish the happy moments in life and, above all, never to take anything for granted.
He doesn't feel the drive to win and ambition to be the best like most young Trainers do; however, age has brought him wisdom and level-headedness not usually found in most other travelers, and the vow that he made to himself on the day of his son's funeral is the fuel that keeps him going when sheer passion is lacking - leading him to victory when he would otherwise allow younger opponents to win, just to see them happy.
An old-fashioned man who holds the principles of kindness, honesty and hard work above all others, he considers them the foundations of his very being. A nature-loving traditionalist, he spends much of his time outdoors, disliking closed spaces. While his talent lies in working the soil, having been his life's work for decades, he actually nurtures a particular fascination with the sky and all manner of birds - a love he borrowed from his wife, who had worked as a carrier pigeon handler when she was young and kept several Pidgey in a coup near their house for many years afterwards, being her preferred method of communication in a shattered, ravaged land. The sky and its dwellers remind Vaughn of his precious Aida, and much of his free time nowadays is spent looking up and reminiscing...
Background
: Born in a stern but loving home, Vaughn was brought up to be a hard-working, fair and dedicated man. His father and mother were both farmers, and such became his own trade. He learned all the secrets of the land over the years, and eventually found his particular calling - Berry harvesting. Second to none in his homeland when it came to growing the finest Berries, he made a living off of cultivating and distributing them to larger industries such as Pokeblock and Poffin producers, and even to Battle Frontiers across the world who used them as consumables in tournaments. That was, until the incidents started... after that, the soil became so inhospitable that only a handful of berries would ever grow. But he persevered, and carried on his trade.
At one point in his youth, before the incidents that ravaged the land, he met his future wife Aida, the one and only love of his life, whom he married and had a child with. He taught his son, named Lucian after Vaughn's father, the values that his own parents had passed on to him, and watched the boy grow into a young man eager for adventure. The family endured the successive catastrophes that plagued Kanto and Johto, changing homes more times than they could count, but they managed. Until...
One day, arriving home after selling another batch of Rawst barrels, Vaughn found most of his house inexplicably burned down. Rushing inside, he came face to face with his worst fear... Aida and Lucian had been caught in the fire. After everything they'd endured together... he was all alone now.
Emotionally scarred, he salvaged what he could, took his precious jacket and his son's Pokemon (a gift he'd given Lucian mere days before the disaster, and who'd miraculously survived the fire) and tried to rebuild his life. His whole world had come crashing down, and it took years for Vaughn to recover...
Now, with no family left and no place to call home, he decided to do what Lucian was denied - start a new journey and brave the land with his son's Pokemon by his side, travelling, taking on challenges and doing everything Lucian always dreamed of; that way he'd be not only honoring his son's memory, but maybe the journey itself would take his mind off his loss... There was a world out there filled with young people just like Lucian, who he could try to help and advise in these dark times; and just like his beloved Aida used to say, "we're only as old as we think we are"! Well, this old man still had some fight left in him, and he knew his family would be watching... he could still make these last years of his life count!