SAWYER COLT - POKEMON TRAINER
Name:
Sawyer Colt
Gender:
Male
Age:
28
Bio:
Sawyer was an only child, son of Pokemon Breeder Ellis Colt and Pokemon Ranger Marina Colt. Raised in a large household with many Pokemon to interact with, it was clear that Sawyer was destined to become a lover of both Pokemon and adventure. At age 10, he received his Pokedex and his first Pokemon from his parents. However, it was during this time that Team Rocket's control of Kanto was at full swing, and the organization stooped so low as to start stealing Pokemon from inexperienced trainers. Sawyer's original starter Pokemon, a Bulbasaur, was stolen from him early on during his journey. And so, rather than enjoying his Pokemon adventure, Sawyer became set on finding his Bulbasaur once more. He delved into Team Rocket's origins, whereabouts, sightings, etc. to find his Bulbasaur. Finally, as soon as he got a clue as to where Team Rocket's HQ was, he marched in with only a few untrained Pokemon caught back when Bulbasaur was with him. Unsurprisingly, Sawyer was apprehended by Rocket Grunts and were then transferred to Team Rocket's Science Department. While there, the young trainer underwent surgical procedures, mainly involving his brain. This was during the time when Team Rocket was researching the science behind the bond required for mega evolution. As a result of the experiments, Sawyer lost his memory and underwent multiple personality changes. He began showing a detached personality, similar to that of someone suffering from antisocial personality disorder.
When Team Rocket was officially disbanded three years after Sawyer's captivity, Sawyer and the other test subjects were destined to be killed to hide evidence. Sawyer, however, still had a desire to live, and used his wits to escape the facility. With a newfound freedom, but with no memories, Sawyer decided to explore the world by himself. Through this, he hoped to recover his memories and find a purpose for his second life. He began exploring all of the world first before Kanto and Johto, for he did not want to trigger bad memories through traces of the old Team Rocket. During his twelve-year journey, he met Roosevelt and Bismarck, two loyal Pokemon who acknowledged Sawyer's buried compassion and love for life.
Only recently, Sawyer returned to Kanto and Johto, and his memory gradually returned, especially when he accidentally revisited his old home. After a long reunion with his family, he decided to rekindle his old love for adventure and Pokemon training. With only a few items in his backpack and a traumatic experience left in the past, Sawyer made his way to Fizzytopia, a land filled to the brim with Pokemon adventure!
Personality:
Sawyer is always calm and unemotional. He speaks very little, though his thoughts can sometimes be read by his facial expressions. He shows signs of suffering from antisocial personality disorder, such as his risk-taking behaviors and random spikes in aggression. He also tends to be disorganized with his thoughts, making him unable to think rationally whenever he's nervous, scared, or facing any type of fight-or-flight situation. During Pokemon battles, he seems cold and collected at first, but immediately changes to become explosive and involved whenever the fight swings to his favor. His Pokemon are usually the only ones who witness Sawyer's kindness, a trace of his previous personality.
SAWYER'S POKEMON
Roosevelt (Roose)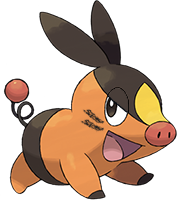 Starter Pokemon
Species:
Tepig
Level:
6
Type:
Fire
Gender:
Male
Current Location:
Party
Birthday:
August 28
Ability:
Blaze
Nature:
Naughty Nature (+ Attack , - Special Defense)
Held Item:
Charcoal
Tepig now has dashes on his cheeks, making him look slightly intimidating
Beauty Points:
0
Contest Stats (Cool/Tough/Beauty/Smart/Cute):
0 / 0 / 0 / 0 / 0
IQ:
0
Contained In:
Pokeball
Current Movepool:
1 Tackle, 3 Tail Whip
TMs:
EMs:
Evolution Line:
-Lv 17->
-Lv36->
Biography: Roose is Sawyer's new Starter Pokemon. Sawyer met Roose during his journey to the Unova region. A rowdy prankster was causing trouble in Flocessy Town, leaving graffiti drawn using ash. The graffiti could be cleaned pretty easily, but the sheer amount of them made locals rather upset. Sawyer, upon visiting the town, agreed to help find the culprit for the graffitis. After a game of cat and mouse, Sawyer discovered a prankster Tepig behind all of the graffiti. However, rather than turning the Tepig in, Sawyer befriended him and ensured the town that the graffiti vandalism was no more. Since then, Sawyer and Roose became the best of friends.
Bismarck (Biz)
Adoption Centre
Species:
Tentacool
Level:
1
Type:
Water / Poison
Gender:
Male
Current Location:
Party
Birthday:
April 17
Ability:
Liquid Ooze
Nature:
Quiet Nature (+ Special Attack , - Speed)
Held Item:
None
Beauty Points:
0
Contest Stats (Cool/Tough/Beauty/Smart/Cute):
0 / 0 / 0 / 0 / 0
IQ:
0
Contained In:
Level Ball
Bio:
Current Movepool:
1 Poison Sting
TMs:
EMs:
Evolution Line:
-Lv 30->
Biography: Sawyer met Biz during a flooding incident in the Sinnoh region. After a destructive storm passed in the Canalave City, various wildlife were either dragged out to sea or beached within the bricked coastal city. One of the Pokemon that were beached was Biz, who was barely alive when Sawyer discovered him atop a roof of a house. The Pokemon had lost almost all his inner water, and was close to drying up. With Sawyer's initiative, the Pokemon was properly nursed back to peak condition. As a way of saying thank you, Biz decided to come with Sawyer on his Pokemon journey.
Antoinette (Annie)
Trade with EBE
Species:
Axew
Level:
1
Type:
Dragon
Gender:
Female
Current Location:
Party
Birthday:
April 18
Ability:
Mold Breaker
Nature:
Jolly Nature (+ Speed , - Special Attack)
Held Item:
None
Beauty Points:
0
Contest Stats (Cool/Tough/Beauty/Smart/Cute):
0 / 0 / 0 / 0 / 0
IQ:
0
Contained In:
Pokeball
Bio:
Current Movepool:
1 Scratch
TMs:
EMs:
Evolution Line:
-Lv 38->
-Lv 48->
Biography: Annie was received through trade, and is therefore rebellious toward her new trainer. However, she gets along very well with the other Pokemon, and is considered the center of attention most times. She's very vain about her looks, especially with her tusks, and do not take kindly to insults concerning them. Overall, she is a jolly Pokemon, though she has yet to place her trust in Sawyer...