Trainer Details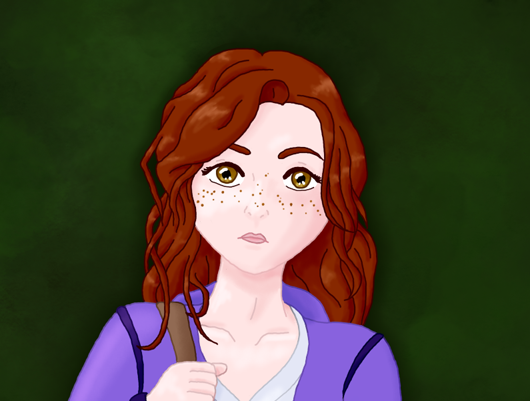 Name:
Emily Phelps
Gender:
Female
Age:
19
Class:
Woodswoman (Major: Ground / Minor: Grass / Weakness: Fighting)
Appearance:
Emily's eyes are a peculiar shade of hazel and, when the light strikes them at just the right angle, they can hold a shimmer of amber hue. Her complexion is a pale pink, and waves of auburn hair frame her lightly freckled face. Her choice of attire tends towards practical-yet-feminine and she seems to favour black, violet and white clothing.
Personality:
Rather than growing bitter after the disasters like so many others, Emily has developed a deep reverence for the natural world and all its creatures. Patient and deliberate, she almost always pursues what she believes to be the most sensible course of action. She doesn't care much for idle chatter and her emotions can be hard to read for those who do not know her well.
Background:
Growing up on the outskirts of Fuchsia City, Emily's early childhood was largely peaceful and carefree. She spent most of her time under the watchful eye of her protective older brother, whom she adored, and it was he who gave her the precious gift of her very first Pokémon when she was just six years old. Her contentedness was brought to a shocking halt when the disasters struck, the ordeal made worse by her beloved only sibling's immediate departure to help in the relief efforts. It has been ten achingly long years and Fuchsia has changed in many ways, but now Emily is about to begin her own journey...
Pokémon Details
Name:
Majesty
Species:
Growlithe
Gender:
Male
Level:
7
last level up from battling Wurmple
Nature:
Hardy
Ability:
Intimidate
Bio:
Majesty was given to Emily when she was a young child, so they had the opportunity to spend time together and bond before the disasters struck the region. Since then, they have only grown more attached, and Emily clings to the Growlithe as a reminder of her brother. Like his trainer, Majesty is very good at appearing calm on the surface, regardless of what he may be feeling. His powerful loyalty to Emily and his ability to mask most physical pain means that he is capable of great endurance in a battle situation.
Moves:
Bite, Roar, Iron Tail, Ember
Name:
Species:
Wurmple
Gender:
Female
Level:
6
last level up from the berry race
Nature:
Quiet
Ability:
Shield Dust
Bio:
Emily encountered Wurmple early in her travels, finding her weak and injured. Emily subsequently managed to rescue her from a wild Spearow, earning Wurmple's trust. Thanks to the aid of a kind apothecary apprentice, Emily and Wurmple crossed paths once again. This time, Wurmple had set her sights on joining Emily in her travels and, after a friendly battle, became Emily's first capture. Wurmple can appear quite fragile at first, but she possesses a cunning mind and inner strength.
Moves:
Tackle, String Shot, Poison Sting
Name:
Species:
Lotad
Gender:
Female
Level:
7
last level up from battling Boldore
Nature:
Naive
Ability:
Rain Dish
Bio:
Emily first came across Lotad while running an errand gathering Salveyo Weed at a lake near Viridian Village. The Lotad ended up in poor condition after being snatched up by a Pidgeotto and so Emily took her to a Pokémon Centre to get the little lilypad patched up. After a trip to return her back to her home waters, Lotad made the decision to follow Emily in her journeys and so she became the novice trainer's second capture. Lotad is naturally more trusting than many other wild Pokémon around Kanto, but she has a streak of rascal in her as well.
Moves:
Astonish, Growl, Absorb, Nature Power, Water Gun