Quote:
Originally Posted by
TheKnightsFury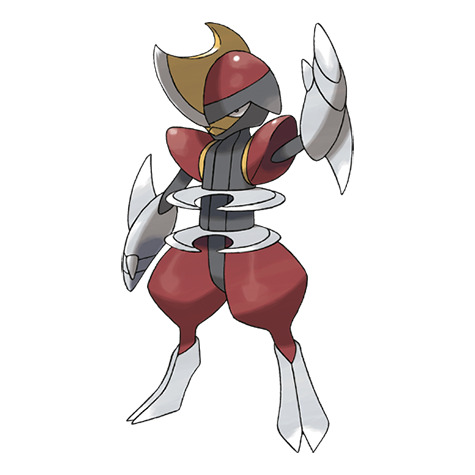 Max Raid Boss Bisharp
★★★★
Health Gauge: 0%
Shields Up: 0
Status:
KO'd
Raider Healing Summary:
Sandaa (Turtonator): 237 HP
Raid Boss Attack Summary:
Attack 1: Sucker Punch (70 BP)

Zorchic (Charmeleon): 174 HP

Attack 2: Sucker Punch (70 BP)

TheKnightsFury (Machop): 205 HP

Attack 3: Sucker Punch (70 BP)

TheKnightsFury (Machop): 110 HP

Raider Recoil Summary:
Zorchic (Charmeleon): 0 HP
The raiders confidently prepare to finish Bisharp off, but the Dark type has one last trick up its sleeve/blades.....
It begins to wildly throw Sucker Punches! Charmeleon is walloped before Machop is force do endure a double blow, but both hold strong against Bisharp's last ditch effort. The raiders launch their attacks, each one pushing Bisharp closer to defeat. Charmeleon rushes in with a kamikaze-like Flare Blitz, knocking himself out as he delivers the final blow to the Raid Boss. Bisharp lets out a metallic screech as the Dynamax energy floods from its body, forcing it to flee deeper into the den.....
The worn yet triumphant raiders emerge from the den, greeted by the cheers of the other Neoknights who had gathered to watch the raid. The Gym Leader makes his way through the raiding party, handing out the customary rewards and thanking the raiders for their efforts.
For their efforts in defeating the Dynamax Raid Boss Bisharp, the trainers are awarded the following:
30 Watts
1x TR Throat Chop
2x Colbur Berry
1x Babiri Berry
+4 Levels to participating Pokemon [+4 Rare Candies if Pokemon is lv.100]
Keith gritted his teeth, for just before the final volley of attacks could be launched, Bisharp lashed out with three consecutive Sucker Punches. Fortunately, none of them struck Eon. One of them, however, dealt big damage to Jake's Charmeleon, causing it to knock itself out from the recoil of its own Flare Blitz. The rest of the Sucker Punches were directed towards the Machop, but not only did it not go down, but after Bisharp went down, Keith watched as the Machop evolved into a Machoke!
"Vee! Vee vui!" Eon exclaimed eagerly, jumping up and down in triumph.
"Haha, sweet!" Keith exclaimed, scooping up the excitable Shiny Eevee in his arms. "Eon, you rocked out there! We kicked ass, and I'm sure we put on a good show for Phantump at the same time."
~~~~~
"Eon, you were so cool!" Phantump exclaimed, excitedly floating in circles around the white-furred Normal-type. "Burning it with Sizzly Slide, and getting rid of all its Attack boosts with Freezy Frost, and you even finished it with that Flamethrower!"
"...Phantump seems to be feeling better," Keith chuckled, as Phantump continued on in this fashion.
"Indeed," Willa replied with a slight chuckle. "The soup and rest have done wonders, but I think watching Eon battle was also something he needed. Though I would argue it's not necessarily what Cyanide needed," she added.
"Oh, great, she saw when Eon got knocked out, didn't she?" groaned Keith. "How much effort did it take to restrain her?"
"It was manageable," Willa said with a small smirk. "She turned out most capable of listening to reason."
Keith raised an eyebrow. "...we're talking about the same Umbreon here, right?" he asked. At that moment, however, he could see said Umbreon walking up to her daughter, a proud smile on the Dark-type's face.
"I convinced Cyanide to keep watching, assuring her that you and Eon wouldn't let that go unpunished," explained Willa. "So she watched, and she liked what she saw."
Keith smiled at Willa. "You are good, you know that?" he said.
Willa smiled back. "As are you," she responded. "I enjoyed watching that battle just as much as Phantump did." Following this, she gave a smirk, then pulled Keith in for a kiss, to which, to put it mildly, he did not object.
*Obtained 30 Watts!*
*Keith obtained a TR95 Throat Chop!*
*Obtained 2 Colbur Berries!*
*Obtained the Babiri Berry!*
*Eon was elevated to level 22!*
*Eon learned Refresh!*
Using my TR on my Pincurchin.
*Fred learned Throat Chop!*