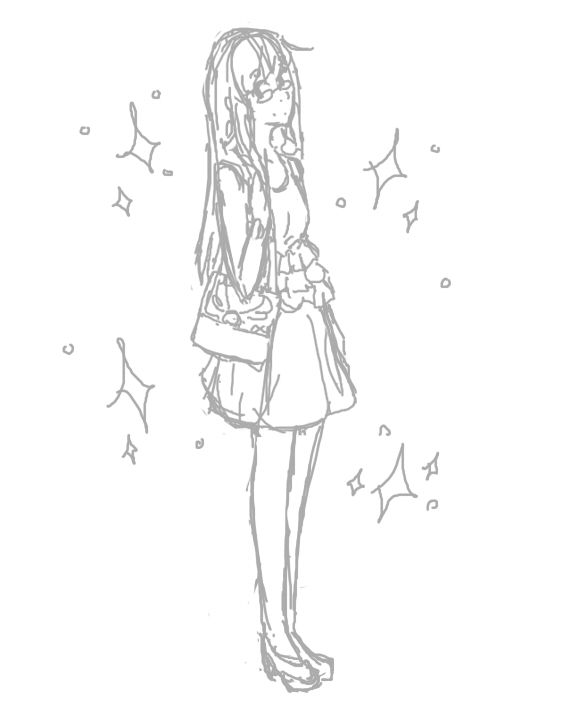 Name: Alice Hope
Gender: Female
Age: 20
Class: Youngster [Major: Ground | Minor: Normal | Weakness: Fire]
Appearance: With a pale complexion and petite stature, Alice is fair and dainty, standing at only four feet and seven inches, she certainly looks the part of youngster even if that isn't entirely true anymore. Her blonde hair almost reaches her waist, with natural waves and highlights, a full fringe and bangs. Her weak blue eyes mean she is almost always wearing her glasses, and her nails are almost always in a manicured state. Her teeth are slightly overcrowded.
Personality: The sole daughter of an academy professor and engineer, Alice is knowledgable and spoiled, leading to a selfish streak and a love for the materialistic, as well as an ego to boot, used to being praised for grades and for both her cute appearance and voice. She is ambitious, and whilst raised to be well-mannered and having a strong sense of identity and beliefs, when Alice wants something, she can throw this away to ensure she gets it. Her personality is full of contradictions - lusty and perverse but shy and easily scared off; fiercely passionate but emotionally stunted to the point of being nearly incapable of feeling guilty. She is also lazy, and her energy tends to be conserved until something catches her attention (like a person or Pokemon she likes, for example), and likes to do everything at her own pace. Despite all these things, her charisma makes her a good leader or follower, and many depend on her for advice. However, Alice's life might improve if she just followed her own or others' guidance for a change...
Background: Hailing from the hot region of the Orange Islands, Alice was an outdoorsey person from her youth. She spent a lot of time playing amongst nature when not at her academy, working in the libraries or research areas with a keen love for learning. Her small size made her a target for bullies, but intelligence and wit meant that she fought them off, and combined with her cuteness and the fact that one of the teachers was her mother, Alice soon rose to be part of the popular clique.
The confidence this built was shattered at the age of ten by the disasters, an experience which still gives her nightmares to this day. Alice fears going out alone, and all natural disasters or even simple things like storms or heavy rain, blizzards and the like. Confining herself to the home that her parents escaped to in Johto, she spent a lot of time admiring celebrities in old magazines, books and working recordings as another escapism, and this has leaked to her real life persona as well. Alice began 'marketing' herself as an idol - writing and making songs with whatever help she could, learning to act, setting up her own radio and generally being an entertainer to distract herself and others at a time of need. It's given herself a fan following which she hopes to keep, but Alice also realises that at the age of twenty, perhaps it's time to leave home and rediscover herself, to try and reclaim the bravery and parts of herself the disasters caused her to lose...
Starter Group: 1
Inventory
$2000
6 Poke Balls
3 Potions
1 Revive
2 of each Basic Berry (Oran, Cheri, Chesto, Pecha, Rawst, Aspear)
1 Escape Rope
2 Heart Mail
1 Fishing Pole
1 TM Case
1 Berry Pouch
PokeGear with the Phone card loaded
Pokedex
Pokemon
Pokemon:
Shinx
Nickname:
Lalo
Level:
6
Ability:
Intimidate
Moves:
Double Kick, Tackle, Leer
Profile:
Lalo has been Alice's friend and almost-carer since not long after the disasters. Aloof and introverted, he was charmed by her attempts to befriend him and her singing voice. Discovering that she suffered from extreme anxiety and troubles after what had gone on in the world, he let himself into her house one day to curl up with her during a breakdown and has since never left. Lalo will do his best to stay at her side (within reason), and enjoys napping and playing together, but his true passion is a good battle. He is used to the spotlight idol work puts on him, but Lalo will usually only work when he feels like it, and keep to himself when he doesn't.
Mood:
50
Threads
Cherry on the Beach