Name: Mint Earhart
Age: 19
Gender: Female
Starter: Celeste, Level 5 Female Chatot
Background: Born and raised in Sunyshore City, Mint eventually decided she was not a fan of the bustling city life and set out for Fizzytopia in search of a more peaceful home and the possibilities of much more thrilling adventures with Celeste, her Chatot, and Sprocket, her ever-helpful Rotom Dex.
Pokémon: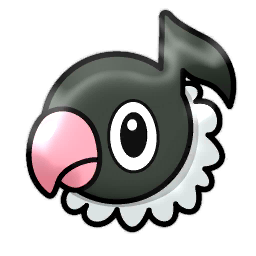 Name: Celeste
Gender: Female
Level: 5
Nature: Gentle
Ability: Big Pecks
Characteristic: Highly curious.
Moves:
Level Up: Hyper Voice, Confide, Chatter, Taunt, Peck, Growl
Tutor: Heat Wave
Egg:
TM:
Bio: Mint's starter Pokémon. While somewhat young, she is mostly conversationally able in English, having been raised entirely in captivity. She doesn't always know who exactly is a good person to listen to, however, and Mint is constantly making sure she's not repeating anything vulgar. She especially makes sure to never leave her alone with Sprocket.

Name:
Pastinha
Gender: Male
Level: 1
Poké Ball: Poké Ball
Nature: Adamant
Ability: Steadfast
Characteristic: Strongly defiant.
Moves:
Level Up: Tackle, Helping Hand, Fake Out, Foresight
Egg:
Tutor:
TM:
Bio: A product of one of many mills that supplied the old Casino, a particular fighting style is ingrained in Pastinha's instincts, the art of capoeira. When not limited in battle by his for now minuscule movepool, Pastinha regularly trains his body with fluid, almost dance-like exercises that help make him an evasive and tough target to defeat. While there is no hard evidence to support the idea, it's very likely that Pastinha's predecessors needed the art to defend themselves whilst in the mills, and perhaps a few even managed to escape by fighting their way out. For now, Pastinha remains a student of the art, strictly dedicated to his training to the point of being slightly antisocial at times.
Name:
Kapp'n
Gender: Male
Level: 1
Nature: Docile
Poké Ball: Poké Ball
Ability: Rain Dish
Characteristic: Likes to relax.
Moves:
Level up: Astonish
Egg:
Tutor:
TM:
Bio: A Lotad who fancies himself a seafarer, Kapp'n is rarely seen out of the water, and if he is, he's always either in Mint's boat,
The Pearl,
or somewhere close by. Pastinha occassionally insists upon swimming as part of his training routine, but without a clear perception of his limits, Kapp'n is often pulling him out of the water and getting him back to solid ground. Loves to sing sea shanties with Celeste when on the boat.
Items:
x1 Backpack
x1 Mega Ring
x1 Z-Ring
x1 Fishing Rod
x1 Berry Bag
x1 Pokeblock Case
x4 Pokeballs
x1 TM Return
x1 Heart Scale from
here
x1 Cherish Ball
x1 Dawn Stone
TMs Pay Day, Thief, Snatch, and Earthquake, x1 each
x15 Yummi Gummi and x4 Bug Ball from
here
Pokedex:
Sprocket (Rotom Dex)
Bio: Sprocket, though a very helpful companion in Mint's travels, is also quite mischievous, and isn't above pranks. The threat of a new (read: pink) paint job is usually enough to get him to simmer down, though, as red is his favorite color and he'd prefer to stay that color. Sprocket likes his Dex very much (he finds it very comfortable compared to the appliances battle-oriented Rotom reside in), and will not come out of it without very good reason (read: extensive repairs).